Contests and competitions for high school students provide a great opportunity to challenge yourself. Plus, you can gain recognition, earn money, and increase your chances of getting into college.
When you apply to college, you have to fill out the Education section of the Common Application, which has an Honors category that allows you to list up to five honors "related to your academic achievements beginning with the ninth grade or international equivalent." You'll also need to indicate the level of your recognition: school, state/regional, national, or international.
A lot of students earn school-related honors.
Some of you might have even earned state/regional honors.
Far fewer students, however, manage to earn national or international recognition. As you can imagine, national and international honors are more impressive to admissions officers.
Some of my students have earned national recognition in the Siemens Competition. One of my students won a national award in an international competition for water-related research. Another has won multiple international piano competitions. Another student's essay was published in The Concord Review and won the Emerson Prize.
These students were pursuing their passions–both privately and publicly–and this gave them a significant competitive edge in the admissions process.
Do you have to be a genius to earn state/regional or national honors?
No.
But you do have to be proactive and commit yourself to the process of applying for–and participating in–contests and competitions.
Here's what I recommend…
1. Find contests and competitions that are related to your strengths and interests. Learn what's required to participate and commit to applying to one or two a year. If you missed the deadline for an annual contest, mark your calendar for next year.
2. If you need to get nominated, talk with the people who can select you. It's great when teachers, mentors, and guidance counselors think of and nominate you. But I don't want you to passively wait for other people to think of you. The fact of the matter is that people are busy and opportunities might slip their minds. In fact, they might not even know about all the possibilities.
Talking with your teachers is easier than you think. You can just say something like: "I noticed that there's an essay contest for students interested in voter registration, and I really want to submit an essay about my experience setting up a registration drive in downtown Baltimore. However, I need to be nominated by a teacher by January 15th. Would you be willing to do this for me? Here's all the information you need." Gather the information for your teacher. Print it out and share relevant links. Make his/her life easier.
3. Use your critical thinking skills. You want to apply to respected contests and competitions. Consider who is organizing the contest and how you are being evaluated. If winners for a contest are selected randomly, that "award" isn't going to make a positive difference in the admissions process.
CONTESTS AND COMPETITIONS FOR HIGH SCHOOL STUDENTS
Let's consider an example of a well-respected writing contest.
LETTERS ABOUT LITERATURE (4th – 12th GRADE)
DEADLINES: December 15, 2014 (9th-12th grade) & January 15, 2015 (4th-8th grade)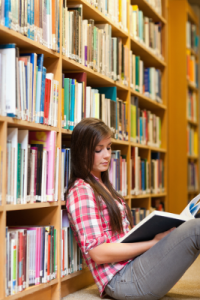 BASIC DETAILS: The Letters About Literature contest is hosted by The Center for the Book in the Library of Congress. There are 3 levels: (9th-12th grade, 7th-8th grade, and 4th-6th grade). State and national winners are selected out of a pool of "tens of thousands of students," so this is a highly selective competition. Letters are judged by experts and go through stages of evaluation. They "advance through two rounds of reading" by "former classroom teachers and graduate students with knowledge of children's literature and their reading-writing process." If you are selected to move on, your letter advances to the state judges, "who will select the top essayists in the state." If you are a State Winner, you earn money and are advanced to the national level. The higher level judges are "authors, publishers, librarians and educators." There is "one National Winner per competition level" (who will receive $1,000) as well as "one National Honor winner per competition (who will receive $200). This award isn't going to fund your college tuition, but it could help you increase your chances of getting into college and earning merit-based scholarships. Click here for more application details.
WHAT YOU HAVE TO DO: You're asked "to read a book, poem or speech and write to that author (living or dead) about how the book affected [you] personally." This year's prompt requires you to answer this question: "How did an author's work change your view of the world or yourself?" If you're in 9th-12th grade, your letter should be 600-1,500 words. If you're in 7th-8th grade, your letter should be 300-1,000 words. If you're in 4th-6th grade, your letter should be 100-500 words.
MY RECOMMENDATIONS: Give yourself a little time right now to turn inward and see if there's a literary text or speech that has influenced the way you perceive yourself and/or the world. If there is, how can you tell the story of this influence and what do you want to tell the author about how he or she has contributed to the development of this perspective? Remember, this is a letter that is about you, the text, and the text's influence on you, and it's directed to a very specific person–the author. It's not a traditional essay.
To get your creative juices pumping, you might want to check out the letters of previous winners in your level. Click here to read letters by National Winners. Click here to read letters by State Winners. Don't let yourself get intimidated. Don't imagine that you have to do what they did. Use their letters as a source of inspiration to come up with your own interesting angles and anecdotes.

Even if you're not applying, read at least one or two of the award-winning letters. Notice beautiful sentences or interesting ways of structuring paragraphs and sharing examples. I was just reading
Joshua Tiprigan's letter to Rudyard Kipling
(
National Winner 2009) and was struck by the beauty of this sentence about "If": "As I read the poem, the words printed in black ink seemed to turn to golden truths and values that burned deep into my brain and trickled down to my heart, gently caressing some wet droplets to my eyes, but I was not "man" enough to cry so I quickly blinked them away." You never want to copy another writer's words, phrases, or sentences, but reading good writing, thinking about what makes it good, and then applying those underlying techniques to your own work are great ways to improve your own writing.
Blog post images in order of use: ©Stoycho Stoychev/bigstock.com, ©Wavebreak Media Ltd/bigstock.com